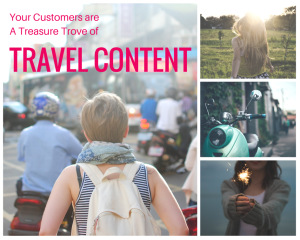 You know content marketing is important for your travel business. You've made it a priority. You're blogging and tweeting and instagramming. You and your team have worked incredibly hard to create a website with stunning images and a clever headline that is on-point with your brand.
But how do you know all this content you're producing will actually engage your audience?
The very first place you should look for messaging is your customers, both current customers and the ideal guests you want. Forget what you want to say, and focus on what your best prospects need to hear. Listening to travelers and truly understanding what they are thinking, feeling and wanting to experience helps them to trust you. When they come to your website or visit your social media pages, they know that they have found exactly what they're looking for.
Where do you find this information, you ask?
Gold Mines of Travel Content
* Customer Surveys & Interviews
* Reviews from Travel Sites (like TripAdvisor)
* Social Media
* Travel Forums
* Emails from Customers
Use Their Words
The types of words and phrases you should look for:
* The natural and conversational language people use when discussing your destination
* Memorable phrases that stand out
* Adjectives that are used most often
* Descriptions that engage the senses
* Specific benefits and amenities they want
* What current customers love most about your business
* Problems or pain points they mention, and how you can help ease their worries
Now What?
Once you've gathered your treasure trove of content, browse through it to find recurring themes. What are the phrases and ideas that travelers tend to repeat over and over? Pick the strongest 3-4 topics, and you've got a pretty clear picture of the exact type of message you should be communicating on your website.
For more ideas and articles on how to create compelling travel content that converts to leads and bookings, click here and enter your email address.